My Story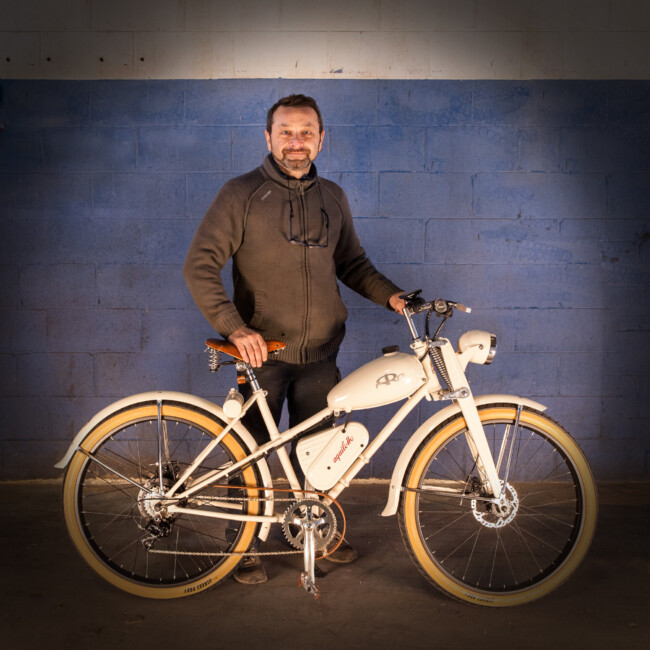 My name is Gabriele Ranzini,
At 6 years old, I was always getting in the way of my father, an agricultural mechanic that used to fix bikes on the side. At 14, I was already by his side, repairing bikes and motorcycles. Life led me to deal with mechanical engineering for decades, until the summer of 2020 when I decided to embark in a new adventure: RG Bikes Italy.
My restorations
The first step is finding a period bike in some basements or barns or given to me by some enthusiasts that bring me their historical pieces.
The engines, that are now 'illegal', are replaced with the most modern Samsung batteries from 36 Volts and 14-20 Amp (provided by Femark srl), which are then placed in the original fuel tank.
I modify the frame so that I can install the new components and I can keep the weight to a minimum, never over 28kg.
I restore with painstaking care all the mechanical components, I preserve the original bronze welding and recover the chrome plating.
Then I pay attention to the details: I add oak wood battery covers, I repaint the frame with the original colours (Nile green and ivory white) and add some parts such as a Brooks seat, a Shimano or Campagnolo gear and some maxi wheels. The LED headlights are handmade by me.
This is how an RG e-bike comes to life, with a 90km range, 4-5 Horus charging time. The maximum self-reduced speed is 25 km per hour.
My first project was the Aquilotto Bianchi, a motor bike built in the historical Edoardo Bianchi factory in 1953.
COMPONENTS
Tutti i pezzi utilizzati per il restauro sono materiali di commercio, per cui reperibili ovunque dai rivenditori italiani e nel mondo (vedere le schede tecniche di prodotto)



Thanks…
Luca Gallo for believing in my adventure from the very start.
Mattia Gallo for his help in creating the brand logo.
My daughter Gaia, my son Manuele and my wife Elisabetta for the daily support and infinite patience.
My brother Flavio for the support and administrative organisation, needed to set this business venture in motion.
Andrea Ghirardi for the wonderful pictures that he has taken of my first showroom pieces.