By Nico Cereghini: on moto.it
As a mechanics enthusiast, he started the transformation of old motorcycles form the 50's into actual pedal assisted bicycles in the outskirts of Milan.
A small and detailed handcrafted production.
Do you know Paperopoli's Pythagorean Archimedes?
He was a very original inventor, he could probably turn an old boiler into a spaceship.
Gabriele Ranzini bears similarities with him, he can take an old Aquilotto Bianchi, or a Guzzino, stuff from the 50's, and change it into an e-bike: the RG e-bike.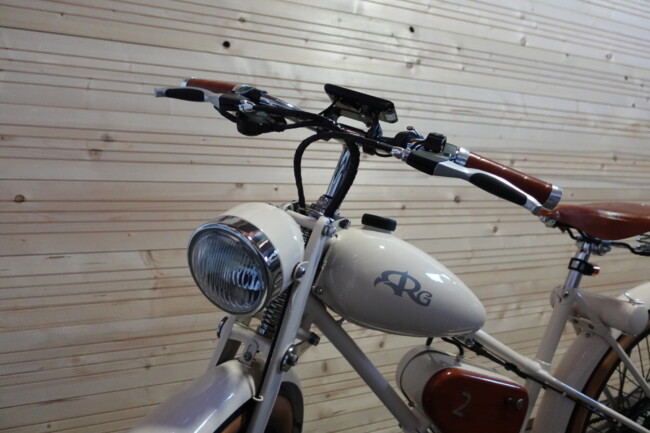 Gabriele, class of '68, lives in Albairate in the outskirts of Milan and as a boy he used to help his father, agricultural repairs by day, bikes and motorbikes by night.
At 17 he enters his first garage, six years later he takes over the business together with the boss, at 30 he starts his own: carpentry, turning, industrial parts milling , big stuff, cranes, parts that weigh hundred kilos even tons.
'Two years ago in August -Gabriele says- a small stroke and life changes: that job was too hard, I sell the company and the machinery, keep the warehouse and I start looking around. That is when I approached e-bikes, in order to go to the mountains without putting too much strain on my heart. A friend's Aquilotto inspired me'.
I get rid of its original engine, in its place the (Bafang) electrical kit with engine, cadence sensor, a control unit connected to the gear settings display and brakes levers.It's easy to say, but it requires a lot of work.
'I modify the frame, elongate the wheelbase, I remove the original handlebars, and I install a front disk brake. As for the Guzzino I have also inclined the fork, raised the bike, enlarged the swing-arm, built the central movement part, raised the seat, I have chanced the chassis with larger rims for 'fun bike ' tyres'.
As naturally there is a need for new ergonomics. The RG's are proper e-bikes, with a 250w engine, speed limited to 25 km per hour, no throttle, nine degrees pedal assistance. Their weight? 27 kg at the most. The price?
It depends on the vehicle and the customisation- says Gabriele- and it goes from the Aquilotto's 7,200, that already features adequate ergonomics, to the Guzzino's 8,000, that has been created according to the client's requests, with quality seat and equipment'
Gabriele is striving to produce three vehicles per month. He has already created five pieces, and he is working on a Motom frame, he is thinking of extending his horizons to other models such as the Garelli Peperino, the Mobylette and the Guzzi Cardellino. However I ask him: does he not feel like a 'desecrator'? Some purists could think that…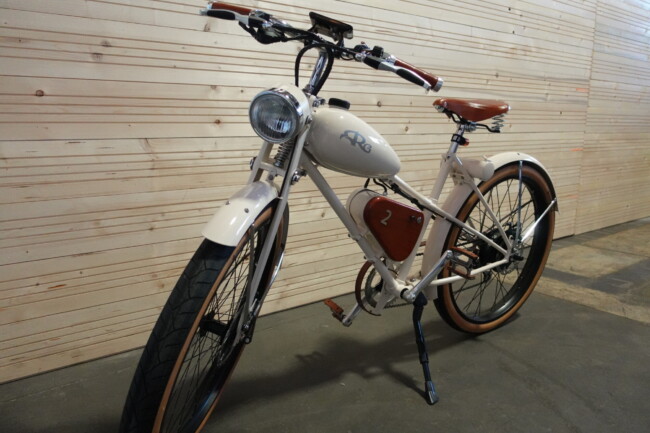 "I start from vehicles that are so damaged that attempting an original restoration would be impossible. I am not damaging a project, I re-invent it. I find everything online and the search is part of the fun: I have discovered and incredible world of enthusiasts, special people with an incredible knowledge and unimaginable collections. And being an enthusiast of any type of mechanics and welding myself, I also found the quality of work of the time very surprising: perfect welding even after the 80's, the brass was untouched and … wonderful!'
Gabriele used to ride his bicycle as a boy (on the pavement) and has learned to make spoke wheels just as he used to see his father making. His quality of life has improved: his job is stress free and he has fun spending his time near his wife and two children, Gaia and Emanuele.
'E-bikes changed my life, I love nature and mountains, my daughter says that she sees me as 'perfect' when I walk in the woods. Today this is my job and I am happy'.
The batteries are Samsung 36 Volt and from 14 to 20 Amp, with about 90km range and five or six hours charging time. Whoever is interested can look for Gabriele Ranzini on Instagram.
In a few days his site will be up and running: www.rg-bicitalia.it